Low profile design for minimum drag and

super

fuel efficiency

All aluminium, fully tig-welded, hyper-engineered™ frame

Torsion suspension for smooth load control

Very light weight

13" ground clearance and high flotation tyres for off-road use

UV resistant plastic storage boxes for years of maintenance free watertight storage

Waterproof gear storage in top camping pod

Lockable waterproof gear storage in front storage pod

Rack system frees up space from your tow vehicles' roof rack

Rack system compatible with Thule, Yakima, Malone and other major brands

Control-Tilt™ cargo bed with pneumatic dampening system

Easy to own with very low-maintenance

Excellent suspension geometry and handling characteristics make it easy to tow

Self-lubricating hubs

Cast aluminium wheels

Spare wheel/tyre

LED lighting for safer, long lasting service

Reinforced diamond-plate flooring for heavy loads

Multiple tie-down points

Multiple configurations for carrying gear
3D Visualization
«
Rollover to rotate
Camping Mode
If you really love to camp, the GO trailer tent was created especially for you. GO delivers that wonderful experience of tent camping: lightweight, airy materials, the feeling of actually being outside (no hard-sided walls), the sounds and smells that make camping so special. GO was created to give you an amazing, comfortable camping experience, without the downside: sleeping on uneven ground, rocks, sticks and mud, leaving a damaging footprint on the environment as well as having to carry it all in... and out! GO easily gets you there, up off the ground on a level, comfortable surface. For the best camping experience you'll ever have.
«
Rollover to rotate
Travel Mode
Even though the GO Trailer Tent is full of storage and carrying capacity, it does not require a large, fuel draining vehicle to tow it. In fact, at only 385kg (840 lbs) and with its low-profile, aerodynamic design... GO is the most efficient and well engineered gear-hauler in the world. GO can carry all your toys, so you can travel farther and more often than you ever thought possible. Carry more, spend less on gas, go further and have more fun.. take a closer look and see why GO is the Coolest. Camper. Ever.
«
Rollover to rotate
Transport Mode
So much more than meets the eye, the GO Trailer Tent was designed to solve all your camping and hauling needs, seven days a week. No matter what your activity of choice is – biking, kayaking, canoeing, surfing – or moving an apartment or bringing home stacks of building materials from the local home improvement store, GO does it all and does it incredibly well. From the Control-tilt deck which allows for ramp-free loading to the removable top (no tools required) which turns GO into a true, open-topped utility trailer... GO is the ultimate vehicle to turn your small, fuel efficient car into a weekend workhorse capable of hauling up to 360kg (800 lbs) of ... anything.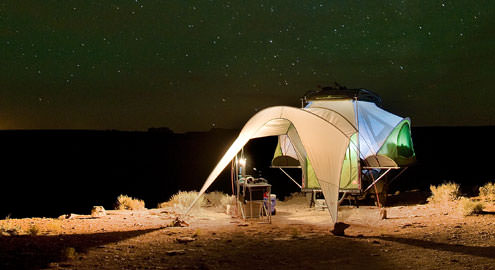 Technology
GO is constructed from premium, US supplied materials and processes, to produce an amazingly light and durable piece of outdoor gear. The custom aluminium Exo-frame incorporates multiple design features that provide incredible functionality in a compact space. Expansion joints within the Camping Pod, for differing expansion and contraction rates between dissimilar materials, assure there will be no cracking or popped rivets. 200D Rip-stop Polyester tent material (not canvas) creates a beautiful, dry and bug-free interior environment. Rotationally moulded Polyethylene storage box, fenders and rear step are durable and will never corrode. Torsion axle suspension system provides a smooth ride and 13" of ground clearance. Thermoformed ABS plastic roof/upper storage pod provides a solid roof overhead. High-strength, lightweight panels, for sleeping and table use, store overhead and out of sight. No need to worry how all these parts work together, we took care of those details from the beginning, to ensure many years of trouble free performance.
Hyper-Engineering
All show and no GO? We knew that we had to engineer GO to do everything we envisioned. If it didn't work, we would not succeed... it was as simple as that. Creative problem-solving, high-tech design, proven components, recyclable materials, multiple configurations, and unlimited possibilities - how can all this fit in to such a small package? Hyper-engineering! You will immediately notice our attention to detail the first time you see a GO.
You'll continue to appreciate those details every time you use it. From the time you first hitch a GO up to your car and feel the ergonomic 1-step coupler, or open the Camping Pod and it gently presents itself to you with the hydraulic assists, when you pull the release pin and the Control-Tilt Deck gently tilts into a loading ramp or when you feel the solid, heavy gauge aluminium extrusion frame, you begin to realize the incredible level of engineering that goes into each and every GO.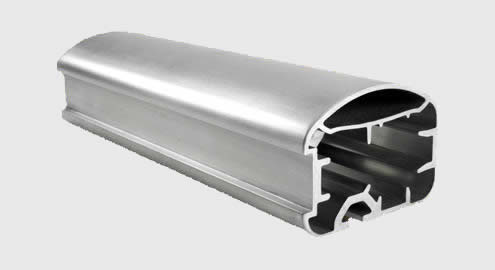 Smart Design
We could have settled for creating another big 'white box' with swoopy graphics and a model named after a large animal. Instead, we started with a blank slate and designed a gear-hauling, camping trailer the way we felt it should be, a Swiss Army Knife of camping-trailers. It had to be light and easily towable... after all, with the price of gas today who wants to drive a gas guzzler just to go out and have a little fun. It had to be versatile enough to handle all the stuff you want to do with it, whether you're carrying boats or bikes or bringing home furniture or appliances. Of course, comfort and a beautiful, spacious interior were also essential, it had to do it all. It doesn't hurt that GO also happens to be one of the coolest looking vehicles on the road.
Ergonomics
Everything you touch, lift, connect, or move has been designed to be 'user-friendly'. You shouldn't have to struggle with heavy components or grasp sharp latches. We have taken ergonomics into consideration in every component of the GO. When you unlatch the Camping Pod it gently presents itself, when you lift the tongue, the ergonomic handle makes it more comfortable and easy. When you tilt the deck, the pneumatic damping system does all the work for you. Whatever the task, GO has been designed to make it lightweight and easy.
When it comes to service, we didn't skimp on details either. From the quick-fill bearing protectors to the tool free rack removal system, GO couldn't be simpler. Even the tent can be removed with no tools required.
World-Class, American Manufacturing, Available in the UK
Of course, if GO isn't BUILT right... the design and engineering doesn't matter. This is why SylvanSport manufactures every GO in the Brevard, North Carolina facility. GO is manufactured unlike any other camping trailer on the road today, it is the most advanced camping trailer in the world. Built by a team of highly trained craftsmen, GO is made up of US supplied components ranging from precision extruded aluminium to custom, moulded boxes and trim. No detail is overlooked where quality is paramount! The GO was dreamed, drawn, prototyped, molded, fabricated and assembled here, in America. It is extremely well made and designed to work, for years.
Exo-Frame
The lightweight and innovative frame system of the GO is an artful blend of robust materials and clever detailing. This functional 'Exo-Frame' is as strong and solid as it is light and versatile. Made primarily from heavy gauge and custom aluminium extrusions the Exo-Frame is fully tig-welded and powder-coated to provide dependable service, for many years.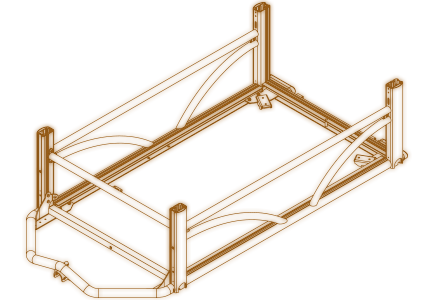 The technology behind GO
While it's true the GO is the coolest camper ever created, it's also a masterpiece of design and engineering. This really is the ultimate trailer tent. A huge investment of time and manufacturing expertise has resulted in the highest quality, multi-functional piece of mobile adventure equipment you will ever find. We invite you to come see a GO in person, it's truly the best way to appreciate everything that goes in to every GO.